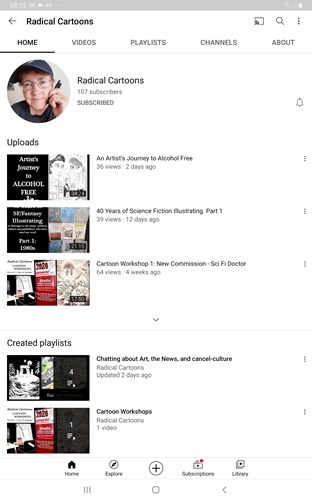 New YouTube Channel!
Added at 08:02 on 13 February 2022
MY NEW YOUTUBE CHANNEL is up and running!
SEE THE LINK in the header above. For 2022 I decided to try and overcome my technophobe issues and learn some new skills, to keep my brain active!
So I'm going on little photography courses, and learning how to make and upload YouTube videos.
I've had the channel for about 6 weeks, and uploaded 8 videos.
There are 3 different types of videos -
1) cartoon workshops, which one day I hope to make interactive.
2) new political cartoons
3) Chats about art, artists, and cancel-culture
This is obviously going to be a niche channel, only of interest if you like this sort of thing. YouTube is really just another form of social media, many youtubers are using it like that.
I'm really enjoying learning how to make and edit the videos, and hopefully my audience will like he end results!