To see my artwork, scroll down here, and check out the "Various" tab!
New for Imbolc, 2023 - Goddess illustrations, on the IWD page!
Happy Chinese New Year!


These cartoons have associated videos, go to my YouTube channel, Radical Cartoons!

Above: Only 15 months after the West abandoned Afghanistan, full Sharia Law is being introduced.
PLUS...in the gallery below you can see my latest political cartoons, and some of my favourites.
MY CARTOON REVIEW OF "2020, THE YEAR WE WERE ALL CANCELLED!" is available to order online through: Amazon, Book Depository, Barnes & Noble, Blackwells, Waterstones, and many other outlets! ISBN: 978-1-5272-7143-2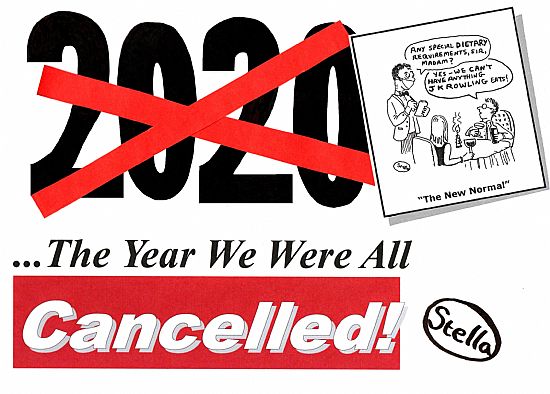 SCROLL DOWN to see a gallery of my political cartoons, mostly published by the Morning Star, uncancelled.co.uk, or Uncommongroundmedia.com
On this website is a fraction of my work from the last 40 years. Many of my illustrations were published in the 'British Small Press' (before we all had the internet) in the 70s and 80s, and I've included some on this site.
GO TO THE " VARIOUS" TAB to see my cartoons and illustrations on Feminist fight-back, Smiling Through Covid, sf/fantasy, children's book illos, and more.
Between 2015 and 2020 I was a regular political cartoonist for the UK's only Socialist daily newspaper, the Morning Star, until I was cancelled by them for a feminist cartoon called "Endgame", which they published, and then were forced to apologise for, knowing it was a comment on the potential changes to the GRA and the erosion of Women's rights in the Equality Act 2010.
You can easily find more about this online. For example: https://Uncommongroundmedia.com/eclipse-of-the-morning-star/
I want to thank all the people who have supported me: spinster.xyz, the Free Speech Union, ObjectUK, Older Feminists Network, Womens Human Rights Campaign, Meghan Murphy, Faircop, Women's Liberation Radio News...and all the women-friendly sites and channels who have used my art in their campaigns.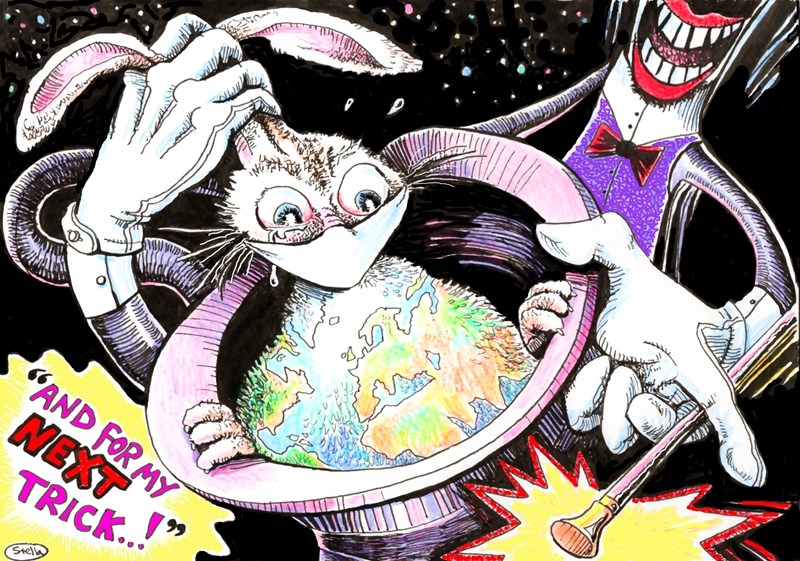 On the exact day all Covid restrictions were removed in the UK, Russia invaded Ukraine.
This is almost beyond parody.